We are totally smitten
with Pantone's color of the year, Greenery, and with this lovely barn wedding featuring  . . . Greenery! Bride Jenna added some white to her greenery and the result sparkled in the rustic interior of the barn at Rivercrest Farm, in Dover, Ohio. We adore the subtle khaki green of the bridesmaids' casual dresses, which made their greenery bouquets shine. A painterly gray sky threatened thunderstorms all day but the sun made its appearance just as the ceremony was about to begin.
After the hilltop ceremony, guests made their way down to the barn where the cocktail hour took place under a white canopy. Guests found their seats in a display overflowing with seeded eucalyptus greenery (designed by the bride's mom). Inside, the greenery continued at the head table draped in moss and garlanded with more eucalyptus and ferns.
See all the gorgeousness captured by Lyssa Ann Portraits HERE   
*Photos on this page by the Garden by the Gate[df_divider el_width="100″ style="solid" accent_color="" border_t_width="" padding="20px 0″ position="align_center" el_class=""]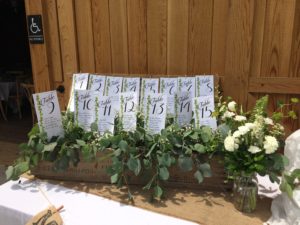 How to do a Greenery color scheme for your wedding
With the popularity of the Pantone color of the year, Greenery, I would like to offer a few tips and suggestions, and maybe correct some misconceptions about foliage decor.
If you're a bride who would like to try to DIY your wedding flowers, Greenery is a good choice. Most foliages are pretty un-fussy about their treatment and last quite a long time in or out of water. We suggest that you choose a few items to DIY and hire a professional to do the rest. Perhaps you could put together centerpieces ahead of time and have your bouquets done by a florist. You really have to think about how much time you will have to create your bouquets and decorations on top of all the special events such as bachelorette parties, mani-pedis, fittings, salon visits, bridesmaid brunches, etc. You want to concentrate on getting yourself ready for your big day, staying fresh and relaxed, and not feeling harried or distracted by extra duties. As a wedding florist, I know how long and hard our team works the days leading up to a wedding so it's hard to envision non-professionals adding this to their schedule.
When you decide that you want to make some of your own wedding decorations, you will need a source for the greenery materials. Your choices include online vendors, big box stores, or your local florist. The main drawback to using most online vendors or big box stores is the quantity of each item that you are required to buy. Flowers and greenery are mostly sold in box lots which generally consist of around ten bunches. Bunches vary in size having from 5-10 stems, sometimes more. As a florist who does many weddings, I can tell you that we seldom purchase a box lot of any one item or color. It is also a misconception that so-called "bulk" outlets are giving you wholesale prices. Generally, they are much higher than what your florist would pay. This is where the Garden by the Gate can help you out by not only providing reasonably priced greenery in just the quantities that you need, but we can also offer a lot of advice about what you'll need and how to put together your arrangements. Just call us or fill out the wedding inquiry form on our website.
One misconception is that greenery and foliage is always cheaper than flowers. Some foliages are inexpensive and some are not. Here is a quick list of some foliages you might use.
Good Value
[df_row][col-md-6]
Leatherleaf fern
Plumosa
Variegated or green pittosporum
Salal (Lemon leaf)
Sprengeri
[/col-md-6][col-md-6_last]
Huck
Nagi
Smilax
Ming Fern
[/col-md-6_last][/df_row]
Premium Foliage
[df_row][col-md-4]
Dusty miller
Italian ruscus
Leucadendron (Safari sunset, Jester, etc.)
Magnolia
[/col-md-4][col-md-4]
Fiddlehead fern
Sword or flat fern
Monstera leaves
Hosta leaves
[/col-md-4][col-md-4_last]
Maidenhair fern
Bay leaves
Olive branches
Explosion grass
[/col-md-4_last][/df_row]
Eucalyptus and more eucalyptus!
There are now so many kinds of eucalyptus greenery to choose from! Most are a little more expensive than your value-priced foliage, but they make a big impression. Here are some varities to try.
[df_row][col-md-4]
Seeded
Parvifolia
Silver dollar
[/col-md-4][col-md-4]
Willow
Gunni
Baby blue or silver
[/col-md-4][col-md-4_last]
Naked seeded
Feather
Tinted
[/col-md-4_last][/df_row]
Garland
Greenery garland can be made out of any of the above foliages or any combination. A word of caution: garland is EXPENSIVE! Whether your florist makes it in their studio or buys it pre-made, it's going to be expensive because there is a lot of labor involved. This is the biggest misconception that we see, brides thinking that some greenery down the center of each table is going to be cheap. This is also not recommended as a DIY project because it takes practice, and even then, it is VERY time consuming to do.
One alternative is to just lay pieces of greenery down the center of the table and this may work if no one disturbs it. It won't look as lush and full as a real garland and here again, it is a lot more time consuming than just placing a vase on the table. This will need to be done the day of the event so it's not a good project for the wedding party. If you have helpers who are not in the wedding, they may be able to do this for you.
Flowers can be tucked in at intervals using flower glue, wire, or water picks.
A word about foraging
Foraged foliage is a very popular look now and many professionals will forage greenery for their work. Branches and leaves from trees, shrubs, or vines can add great color and texture. The caveat is that you must test your foraged greens ahead of time to see if they will hold up. Cut the foliage and place it in water and flower food overnight or for several hours. If it is going to be used in centerpieces where it will have a water supply, this is all you have to do. Observe it for as long as you think you will want to hold your arrangements. If it is going to be used in something that will not have a water supply such as garlands, bouquets, or boutonnieres, condition it as above then take it out of the water and observe how it holds up out of the water for as long as it will be without water.