As fall brings a nip in the air
nature puts on some of her most vibrant colors. Nicole and Issac's wedding was on a perfect September day and they chose a perfect fall color palette that included harvest colors of eggplant, wine, maize, apple green, and all the oranges of a maple tree at peak fall color. Nicole carried her grandmother's rosary down the aisle along with her bouquet of black magic roses, dahlias, mums, hypericum berries, scabiosa pods, and seeded eucalyptus. Since the Garden by the Gate uses locally grown flowers as much as possible, I had told Nicole that I wasn't sure if the scabiosa pods would be ready in time for her wedding. Luckily my crop of scabiosa pods matured at just the right moment to be included in Nicole's wedding flowers. Homegrown dahlias used included Hollyhill Black Beauty, Voodoo, Diva, and Summers End. Most of those are new varieties that were chosen with Nicole's color scheme in mind. See all the gorgeousness captured by EllieJay Photography HERE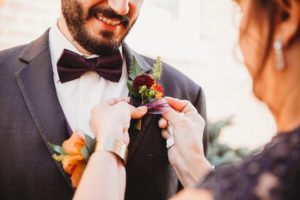 When you choose the Garden by the Gate for your wedding flowers, we get right to work making sure that we will have your flowers ready for your wedding. We'll order dahlia bulbs, seed packets, or plants that coordinate with your color scheme. We also work with local growers like Bloom Hill Farm, a family flower farm in Uniontown, Ohio (just 5 minutes away from the Garden by the Gate).
For Nicole's wedding, we planted dahlias in shades of eggplant, wine, and orangy-peach. Scabiosa pods were new for me this year, and I have to say they are pretty easy to grow and they are perfect for adding soft texture and unique color to bouquets. For the centerpieces, we planted Benary's Giants zinnias in purple, wine, gold, and orange.
The most unique thing we grew this year is seen in the ceremony arrangments. Balloon plant milkweed is grown for the balloon-like inflated seed pods that appear in the fall. It is also the food of Monarch Butterflies, an endangered species. I think they added great interest to the arrangements.