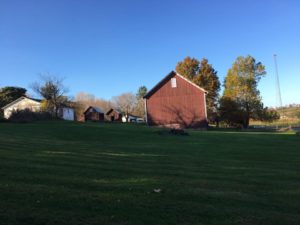 When Jennie and Paul first became engaged, they planned to be married on the family farm with tons of rustic touches. As it became apparent that preparing the farm for a wedding was too daunting a task, the couple chose to move the festivities to Firestone Country Club, where they are members.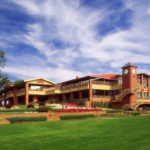 The world renowned club has been home to many high profile events like the Bridgestone Invitational, part of the World Golf Championships. Portraits of the many celebrities who have visited the club hang in the halls. The couple knew that the elegantly appointed club with its world-class cuisine and impeccable customer service would be perfect for their wedding, but they wanted to keep some of the rustic, country decor elements that they had planned on.

As a professional graphic designer, Jennie had a meticulously planned vision for the decor and the Garden by the Gate was up to the task of making her vision a reality. Champagne-colored sequined table runners were the perfect way to bridge the elegance of the club with the mason jar arrangements brimming with white roses, sunflowers, burgundy dahlias, eucalyptus, and dried wheat.
View all of the awesomeness captured by Too Much Awesomeness photography HERE